Haven't put anything up here on this bike, there's really nothing that special about it, other than I bought it in '67, and chopped it in '68, not really knowing what I was doing. It was my first Harley, after a BSA 650 Lightning, and a Honda 305 Super Hawk (my first bike, in '62). I was living on Maui in a sugar cane plantation camp, working for the sugar cane company doing surveying, drafting, and layout of irrigation systems for a 37,000 acre sugar cane farm. I pulled that '62 up the front steps and tore it down in the living room. I was a 25 yr old bachelor and could do what I wanted in that old plantation house, so it was rock n roll, beer, bourbon and buds with my buddies most days after work. I was totally uneducated about the proper way to rake the neck, had 16" over stock tubes from Forking by Frank, and wanted to run that long front end.
As I was working on it, I picked up a '59 basket case, put it together and got it running. Put the long front end on it, pulled the shocks off the rear and dropped it down as far as it would go, then made some struts to get the tire to clear the top frame cross bar, and rode it that way while I reworked the back end of the '62 frame to match it as a hardtail...
This shows the start of the rework on the '62 frame, with the '59 also shown with the long fork tubes and the struts.
And yes, I did machine some plugs to mate those tube extensions, they are not butt welded...
Just getting it set up for the first time, stock neck, radically dropped rear, axle plates cut and welded in flat (parallel) with the ground for even axle adjustment.
As I was working on the bike, I got married, my wife jumped in and helped me get the bike finished (she wanted the living room back....), I rode the bike in unfinished but rideable condition for awhile, I had a kid from a previous marriage who stayed with me a lot, he went for his first ride with me on the '62 in this pic, probable taken in 1970....
That bike got red paint, some old army backpacks converted to saddle bags, and was a daily ride, including many fun trips on the other islands with a bunch of buddies, and several trips over to the western states and Canada. Here's a fuzzy pic from one of those mainland trips...
Shortly after this pic, I converted the primary to open belt drive using one of the early Primo belt setups....
Rode it until about 1990, picked up other bikes, the '62 developed tranny and rear wheel bearing problems, so I put 'er away for a future rebuild. Along the way, I picked up a Denver's frame, I had him build one to my specs just for the '62, many years ago, and finally pulled it out of storage last year to redo the bike. Here's the start of the recent teardown of the '62....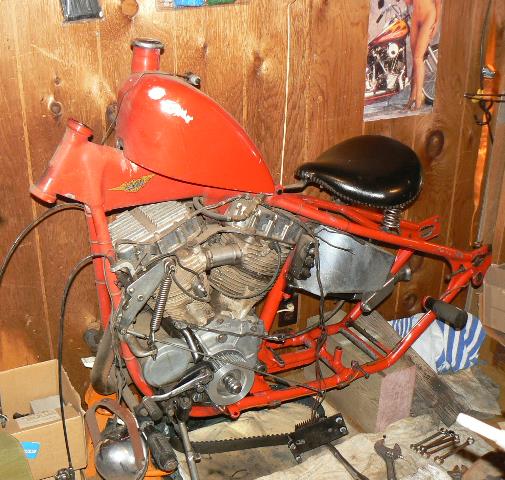 This frame and tank went to a buddy who wants to build up his own pan, using this old frame of mine...
More later, gotta go out for Thanksgiving Dinner with a bunch of friends....
Aloha from Maui,
Willy